Bitmark Health
Own your full medical history.

Take ownership of your health history and control how it is shared with healthcare providers, family, and researchers.
---
INTRO
Helping individuals aggregate, own, and control access to their complete health information for their benefit.

Bitmark Health is an extension of Bitmark's property blockchain technology, approved by UC Berkeley's IRB in 2018 for public health studies.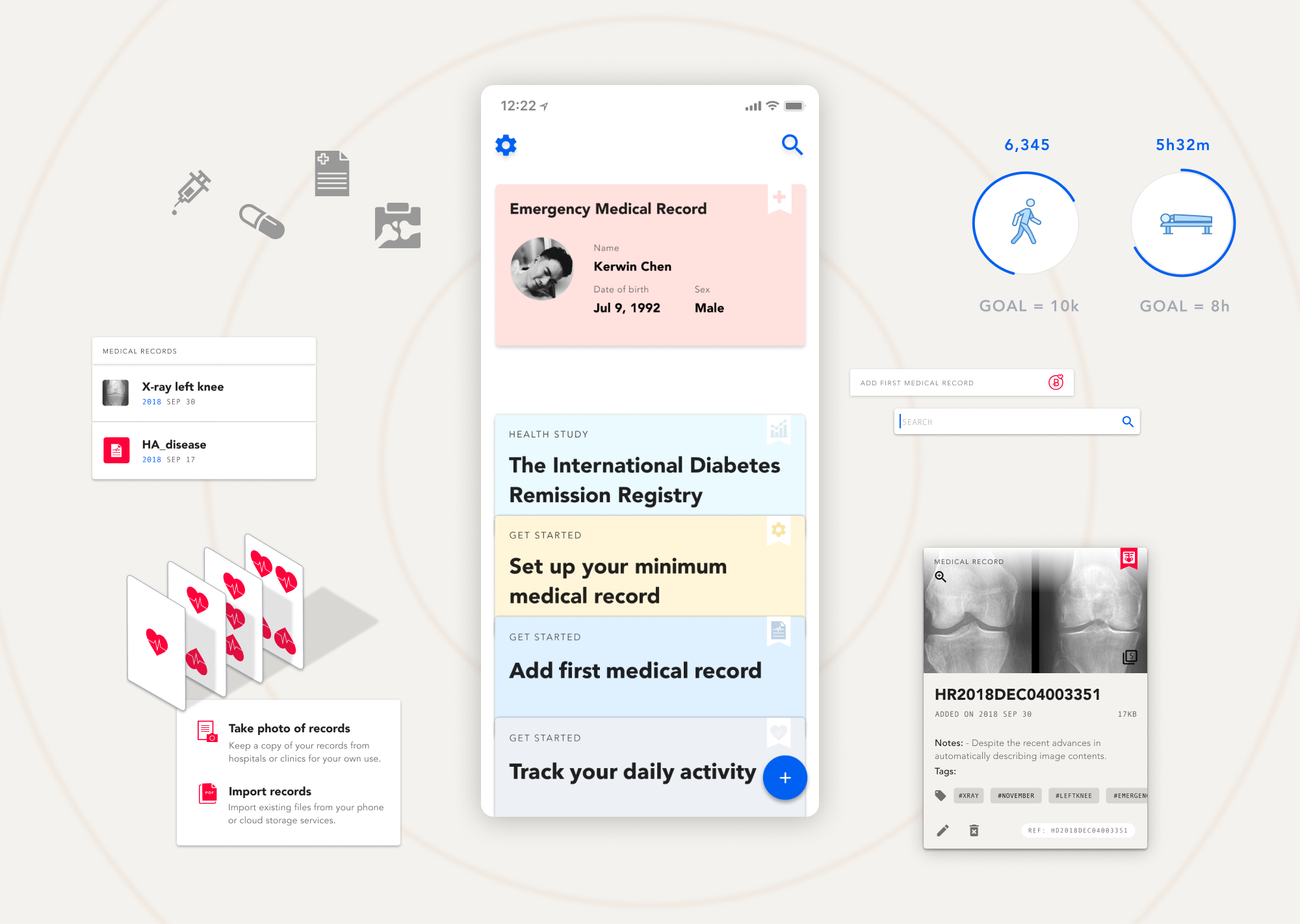 ROLE

Product designer: wireframes, UI/UX design, responsive design, end-to-end user flow, user research.
TEAM

Casey · Head of Product
Anais · Branding
Bach Le Xuan, Anh Nguyen · Developers



---
DEFINE USER STORY
When I don't possess my entire history of health data, I want to aggregate it using a single app, so I can receive better healthcare wherever I go.

When I have a copy of my entire health history, I want to control access to it, so I can leverage it for my personal benefit.

When I have a copy of my entire health history and can control access to it, I want privacy-protecting computations to match me with interested data consumers, so I can generate value (wealth) from my health data.


SPECIFIC USE CASES FINDING
Simplest Aggregation — immunization records for children
Simplest Sharing Case — emergency Medical Record
---
BRANDING DESIGN PROGRESS
It was a significant design challenge for me because when most people think about health, they already have a particular image plus this industry have always drawn substantial attention. Most likely the design language should feel safe, warm, love, and caring. However, Bitmark (the blockchain company) branding guide is the opposite feeling from that it's not only engineering-oriented but also cold. We had to spend much time on the re-branding and brainstorming the right design looks and feels. Here are the design transitions from the beginnings to the latest version.




We've completed and published the app with three re-design and product iterations within a half year, continuously gather users feedback and create user persona as a directional design reference.



---
USER TESTING & INTERVIEWS
Since this is the most important project I've designed for changing the healthcare industry. After finished the first version of the app, I started the user testing process immediately and focus on usability testings. The tool I use is usertesting.com. It's a platform that allows the enterprise to connect with users easily in live session.




After gathering all the insight and feedbacks, the product team will discuss and set the priority by the issue, type and frequency. Here is the way we structure:


---
01. USER ONBOARDING
Present the design for user to understand the concept: all your private health record stores in the blockchain based vault.

---
02. HOME AND SETTINGS
Using card layout as the main interface. Each card is a single record, it feels safe, concrete and joyful.

---
03. HEALTH DATA : MEDICAL RECORDS AND FITNESS DATA
---
JOIN OUR FACEBOOK HEALTH COMMUNITY AND HELP US IMPROVE THE APP
We are still iterating the app to make it better, feel free to join our community for all the updates or sharing your thoughts.